Paresh Rawal to Portray Sunil Dutt: The makers' search for the role of Sanjay's father, Sunil Dutt's role has come to an end, as the veteran actor Paresh Rawal will portray the late Sunil Dutt in this biopic. And now, Sanjay Dutt came out with a new wish that he wanted to play his dad's role in his biopic.
Paresh Rawal to Portray Sunil Dutt: The first biopic to be made on Bollywood star!!
The actor Sanjay Dutt and his father shared a very deep bond and Hirani is putting his best to justify the role. Earlier, Akshaye Khanna was finalized for the character but, even after the prosthetic make-up, Akshaye and Hirani were not convinced and felt that Akshaye did not look like Sunil Dutt at all. And they mutually decided to not go ahead with their alliance.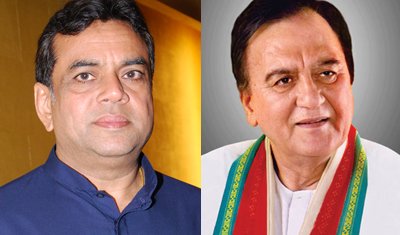 Ranbir Kapoor is prepping up for the character and has gained more than 13kg of weight which comprises of muscle and no fat to match up with the muscular physique of Sanjay Dutt.
Directed by Rajkumar Hirani and will even see Sonam Kapoor, Anushka Sharma, Dia Mirza and Paresh Rawal in pivotal roles. The movie is expected to release this Christmas.