Bhangarh Fort Facts: Bhangarh Fort is a historical memorial built by Raja Madho Singh in 1631. It is located 40 km from Jaipur in Rajasthan state of India. For centuries, the fort has been associated with several horror stories and is known as the most haunted place in India. Let's explore some unknown facts about Bhangarh.
Bhangarh Fort Facts: Some Stories About The Most Haunted Place!!
A Black History Embedded In That Fort
There are two stories narrated usually, first one is that a sadhu named Baba Balak Nath lived within the fort area. It was his injunction that any houses built in the precincts of the fort should not be taller than his house, and if the shadow of any such house fell on his house, it would result in destruction of the fort town.
The other version was, the wizard who was adept in black magic fell in love with Ratnavati, the princess of Bhangarh who was very beautiful and had suitors to marry her from many royal families of the country. One day the princess, 18 years of age, went shopping with her friends and was buying Ittar (scent). The wizard saw this and replaced the scent with a love potion in order to compel the princess. He offered the potion to her so that she would take a liking to him and marry him. However, the princess saw through the wizard's trickery, and when he offered her the bowl of potion, she threw it onto a big boulder nearby. As a result, the boulder started rolling down towards the wizard and crushed him. Before he died, he cursed that Bhangarh would be destroyed soon and no one would be able to live within its precincts.
All Doors Are Locked After Dusk
According to different local folk stories, no one is allowed to enter the fort premises once the sun goes down. The locals of Bhangarh narrate several stories and incidents where volunteers opted for a night stay in the fort, but never returned. Therefore, strict restrictions have been imposed, a timing has been set there within which you are allowed to visit and you have to leave the fort premises before dusk.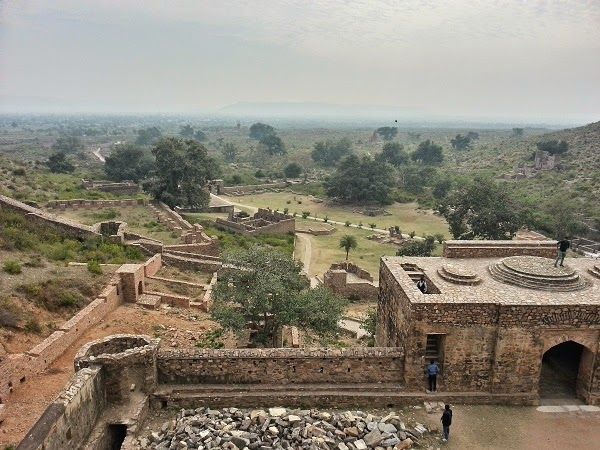 Non- Explainable Noises
Noises such as crying voices of ladies, screaming in pain. Many times, someone's whisper sound and special sound is felt there.